Roscioli is the home of one of the most exquisite and dare I say divine culinary experiences you may have in Rome. Frequented nearly entirely by locals (thats how you know it's good), it is a "Salumeria con cucina"(A deli with a kitchen) where by day I presume you may conduct business as usual, buying your choice of cheese or cured meats or olive oils and spreads (the selection for any of these items is out of this world), but by night, you sit down and enjoy a true italian meal in all its culinary glory. Tonight was one of those nights for my sister and I, since we were fortunate enough to be invited, very graciously, by a friend of a friend and her family (we had never even met!) to dinner, and what a dinner it was. Appetizers abounded: artichokes, followed by buffalo mozzarella with

sun dried

cherry tomatoes

, followed by anchovies, followed by mortadella, followed by burrata, etc etc etc

... plates upon plates upon plates of heavenly goods. And this was just the beginning (and of course I was already full). A rose wine paired with the appetizers by the father, an true

sommelier

, followed by a strong sauvignon blanc with dinner. Supposedly this restaurant is known for its pasta carbonara (often times described as the best in all of Italy), so naturally, we had to try it. My taste buds had never been so aroused - it certainly lived up to its fame. Some members of the family followed their pasta with another main dish (fish), but the rest of us were too full to imagine even one more bite. We wiped up our plates with bread and

loosened

our belt a little bit, and sat back in pure delight. Complimentary with the million-course dinner was a tray of cookies and chocolate sauce for dipping, which was exactly the bite we needed to cleanse the

palette

and "seal the deal." We sat and dined for more than 3 hours, one small dish after another, until we could not eat any more... and then we ate more. It was the most incredible feast I have had in a long, long time (maybe the most incredible ever?) and I will never in my life forget this amazing evening. If you ever find yourself in Rome, do yourself a favor and reserve a table at Roscioli - it might just be the best thing you'll ever do.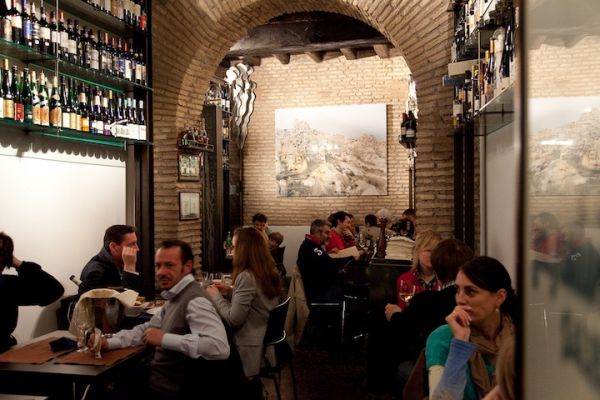 http://www.spigoloso.com/wp-content/uploads/IMG_5089.jpg
http://www.iristorante.it/files/61800/7835170254c7512dac49e2_large.jpg
http://www.parlafood.com/wp-content/uploads/2011/08/amatriciana-roscioli.jpg